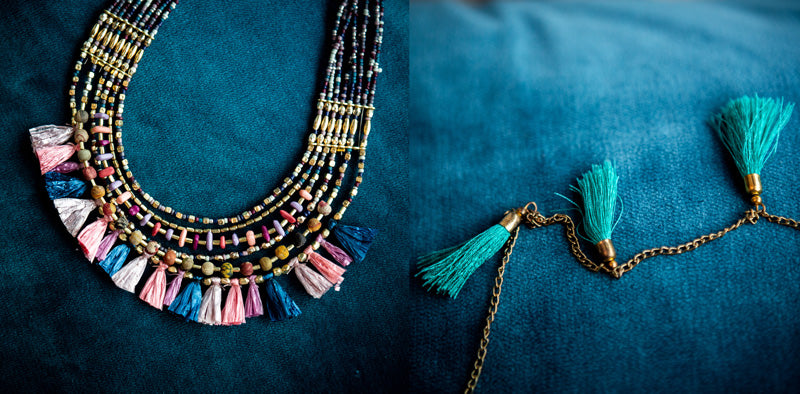 Be the Style Statement this Summer
We at AKROZO, in our ongoing quest for handmade, one-of-a-kind pieces, are so excited to share this news with YOU! We're beaming with excitement to introduce the
Anaya
and
Kavya
jewelry collection as part of our
Summer Launch
! If you're looking for something as unique and vibrant as your summer style is, this will live up to your expectations.

Jewelry is not just a piece of accessory, it's something that speaks volumes about your style and personality. The colors, texture, was it handmade, a gift? - There's always a story behind every piece we've all owned! And yes, all us fashionistas, can never have enough of it – the more, always the better!

Why did we pick Anaya and Kavya as part of our Summer Collection?

An Accent To Casual Attire
Lay a bet, most of us are itching to wear all those tassel pieces to keep up with the 2018 fashion trend but are style-shy! Would it look good? The right occasion to wear it at? Well, the
Anaya collection
, featuring an assortment of handmade anklets and necklaces, will be perfect for all such occasions. The combination of gold and silver accents with a hint of colourful tassels will be a go-to for summer BBQs, a walk around downtown, an outdoor festival or a patio brunch/dinner date – all of it.

How to pair it?
The tassel anklets will look particularly stylish when combined with open toed footwear and will set you right up for a fun creative fashion look. As for the necklaces, they've been beautifully designed keeping in mind the summer style we all dig for. This line will comfortably help you step out of your comfort zone and serve as conversation starters. We all keep looking for pieces that will help us project the right image of our style, this line is an effort to find your edge! To top it all up, here's a quick
Necklace Layering 101 tutorial
.

Statement Necklaces - You've Arrived
Both the
Anaya and Kavya Statement Necklaces
are the definition of statement pieces! With multilayered beaded threads and tassels, these necklaces will help you pull together a completely new stylish look and as it says, make a statement! They are unique, catchy, and proper to your character.
In a well-set wardrobe, you should have 2 to 3 statement pieces that you alternate from time to time. The best part? You can dress your look down or dress it up depending on the event you're heading to. For an evening classy look, pull out a dark coloured dress (black/wine/royal blue) and wear one of these for a minimalist yet striking look. For a day event, wear a neutral coloured attire and add a pop of colour with one of these colourful beaded necklaces.
Click here
 to select your pick and share your style with Akrozo.

Helping an Artisan Grow
We all often look for pieces that make us feel good about ourselves. Wouldn't it become more special when it helps build a stronger community around us too? The artisan behind this collection learnt the art of beading these little stones at an early age of 5. The only push she ever craved for is encouragement for her passion! This collection represents a cause, a promise of supporting all these artisans. If one of these pieces speak a little louder to you, make them a part of your wardrobe. We're tirelessly helping them grow by channeling the proceeds their way. Learn more Akrozo's mission
here.

What led her to learn and master this art of beading necklaces? Stay tuned for our next blog post as we reveal more about this Artisan.

To wrap it all up, exploring our own version of fashion is always fun. It took us months to comb through a million jewelry pieces, only to bring out the best for you! So find your statement pieces and wear them with style and confidence. 

Love,
AKROZO



---